Validation of Credit Scoring and Rating Systems
This course provides practical knowledge for the validation and monitoring of credit scoring and internal rating systems with a focus on the relevant statistical techniques and tools.
Attendees should have a background in predictive modelling or credit risk management and want to learn more about validating predictive models in the credit risk area, especially in the context of Basel 2.
Dr Hendrik Wagner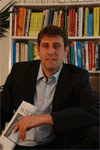 Dr Hendrik WagnerFor 9 years Dr Wagner was Product Manager Data Mining Solutions at the SAS Institute covering Europe, Middle East and Africa.
He introduced scorecard development functionality into SAS' flagship data mining solution Enterprise Miner and made it the market leading solution for inhouse scorecard development. He also led the creation of an end-to-end model development, deployment and monitoring solution and defined specific functionality for building internal rating systems for Basel 2 -PD and LGD modeling, pooling and backtesting.
After writing SAS' first Risk Weighted Assets calculation code, he helped launch SAS' market leading Credit Risk Management solution.
He became a consultant in 2006 providing credit risk and internal audit departments with advisory and implementation services, such as readiness assessment, model development and rating system auditing.
Clients include inter alia GHB bank, Thailand, (Housing Loan Application Scorecard), Samlink, Finland, (Behavioral PD Model),Maybank Malaysia( Corporate PD Model Validation), National Australia Group UK, (Retail PD, LGD and EAD Model Validation for Basel2 IRB Approval), Deutsche Telekom Germany (PD model validation and development, early warning system, profit scoring) and BHW Bausparkasse ( PD and LGD model validation of a home loans portfolio).
Dr Wagner holds a doctorate in Computer Sciences.
Part 1: Introduction
The Basel Validation Approach
Model Design, Data Quality and Use Tests
Backtesting and Benchmarking
Validation and Monitoring
Criteria for Good Validation
The Validation Protocol
Part 2: PD Model Validation
Validating PD Model Design

Design of the Development Data

Definition of Default
Aggregation Level
Use of all Factors

Model Type and Development Strategy

Sampling
Dealing with Erroneous Values
Accommodating Non-Linearity
Multivariate Modelling
Controlling Input Correlation
Economic Plausibility

Calibration and Pooling

Definition of Default-Rate

Segmentation
Application and Behavioural Models
Composite Models
Statistical Models and their Environment
Model Documentation

Development Documentation
Development-Time Performance Documentation
Availability of development sample
Specification for Implementation

Backtesting

Design of the Validation Data
Performance Measures

Overall and Pool-Level Calibration
Discriminatory Power
Stability
Backtesting over Time
Conservativeness
Input Validation
Thresholds

Systems Validation: The Historical and the Operational View

obustness and Transparency of Data Systems
The Risk Data Mart
Model Implementation and Use
Part 3: LGD Model Validation
Validating LGD Model Design

Design of the development data

Definition of Default
Definition of Loss – Realized LGD
Aggregation Level
Use of all Factors

Model Type and Development Strategy

Segments, Cohorts and Averages
Scenarios – Cure Rate
Recovery Rates and Corrections
Downturn LGD
Default At Observation
Multivariate Approaches – LGD Scoring

Calibration and Pooling
Model Documentation

Backtesting

Design of the Validation Data

Finding predictions and outcomes
Aligning collateral level and account level

Performance Measures

Calibration of Parameters
Calibration of Predictions
Power of Predictions
Stability
Conservativeness

Systems Validation: The Historical and the Operational View

Robustness and Transparency of Data Systems
The Risk Data Mart
Model Implementation and Use