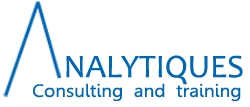 Who we are ?
Analytiques C & F Ltd is incorporated in England and based in London. It specialises in all the aspects of Credit Risk including Financial and Credit Analysis, Quantitative Analysis, Capital requirements, the Basel II and III Accords, and legal documentation.
Analytiques' sister company, Bank Consulting and Training Ltd, performs long term consulting and training assignments in the field of Operational Risk.
Where we work
Analytiques was set up to address the needs of the African market, in line with the long association of its directors and staff with the continent. lthough this remains one of the company's key markets, the directors of Analytiques are routinely involved in training or consulting assignments in Europe and the Far East.
Our clients
Our clientele consists almost exclusively of banks, including several central banks.
It is a measure of our professionalism and a source of pride that the same clients have chosen to retain us, year after year for the past eight years, to run their credit programmes.
A non-exhaustive list of our clients can be found in the "Our Clients" section.
Our approach
All our trainers or consultants have strong academic qualifications, conduct their own research and produce their own study material. But because it is practical guidance and concrete solutions that our clients expect, years of hands-on senior management experience gained with leading international banks and in major financial centres are a mandatory requirement for our staff and what best describes our business franchise.